A. Using a Vinegar Solution
Vinegar is a liquid consisting mainly of acetic acid and water. The acetic acid is produced by the fermentation of ethanol by acetic acid bacteria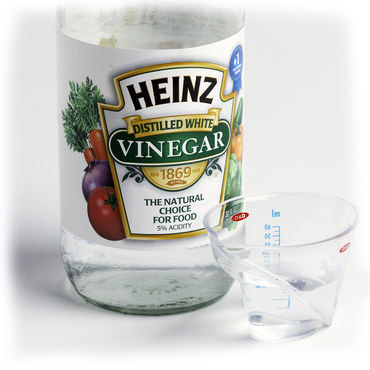 . Distilled vinegar, is also called white vinegar, and can be a staple cleaning product. Vinegar is a miracle of nature, completely non-toxic and anti-bacterial. Vinegar is actually beneficial to any surface it touches. It safely kills germs and is much more economical than chemical cleaning solutions. It's not even harmful when accidentally inhaled or ingested.
The acidic composition of vinegar acts quickly to break down the kind of film that frequently accumulates on glass surfaces. When you wash a window using a solution that contains vinegar, the results will almost always be free from streaks and sparkling clean.
Method:
1. Mix in a spray container 1:1 ratio of water and vinegar.
2. Moisten the surface and use a sponge or a lint free material to wipe the window.
Note : Work on one area at a time
3. Depending on how grimy your windows are, you might even consider using the vinegar undiluted.
4. On either solution mixes you can add a little liquid soap so if there is any wax on the windows it is easy to remove.
5. After all the streaks are out, rinse the area thoroughly.
---
B. Using Lemons  or Lemon juice
High in citric acid, lemon juice one of the best natural cleaners due to its low pH and antibacterial properties. Lemons also smell great and aren't likely to cause damage to materials.
The lemon can be used as is without squeezing the juice out. Just cut in half and rub the window with the lemon where you can see the streaks. Rub until you can see them no more.
You can also use lemon juice with vinegar  plus water if you have a lot of grim on your windows. The proportions are dependent on the severity of grim on the windows.
C. Steel wool and a little water
Steel wool (0000) or brass wool is used to remove all those bits of organic material missed by every other scrubbing device.
As steel is softer than glass, it cannot scratch it, and has the huge advantage over razor blades in that it rolls over any microscopic fabricating debris.
Sand, dirt, and concrete particles can scratch glass when trapped on anything dragged across the glass (whether a squeegee, steel wool, or a rag). This is you are advised to use fresh steel wool, squeegees, and rags for each job.
Please be advised: while steel wool and brass wool will not scratch glass, but other cleaning abrasives will absolutely scratch glass and must never be used to clean it.

Always Use Fress Steel Wool, so as to avoid any dirt or debree trapped in it from scratching the glass.