What are LED's?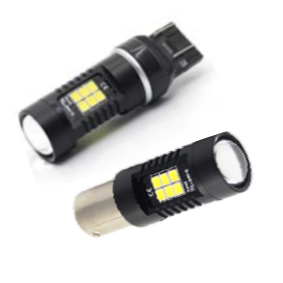 LEDs, or light–emitting diodes, are semiconductor devices that produce visible light when an electrical current passed through them. LEDs are a type of Solid State Lighting (SSL).
LEDs emit light in a specific direction, unlike incandescent and compact fluorescent bulbs, which emit light and heat in all directions. For this reason, LED lighting is able to use light and energy more efficiently in many applications. However, it also means that sophisticated engineering is needed to produce an LED light bulb that shines light all around like an incandescent A-shape bulb.
What makes them better than incandescent bulbs?
When electrical current is applied, an LED (light emitting diode) will project light from a semiconductor chip mounted on a circuit board. This provides a much more efficient means of light generation with little heat, over that of incandescent, halogen and xenon bulbs. LEDs typically generate 70+ lumens per watt, which shadows the output of incandescents at 15, and xenons at 20-25 lumens per watt.
LED Car Lights
The automotive industry has evolved a lot, and this is the next phase in car lighting after the halogen and HID (High Intensity Discharge) bulbs which are now being used in most cars.
The most important aspect when it comes to LED headlights is the fact that they need very low power to work compared to classic halogen bulbs, although compared to HID's they are not as bright. The low power usage has influenced the use of LED as DRL's (Daytime Running Lights).
Product Main Features:
1. Maintenance Free, Easy and Fast Installation.
2. Shockproof, Solid-State, High Shock / Vibration Resistant.
3. Low Power Consumption and Environment friendly.

4. High Intensity and high brightness
5. Eco-Label, Major Power Savings
6. Major Reduction in, Heat Generation
7. Pure colour with nice appearance
8. Energy saving and green products
9. Super white lighting provides a high level ofroad safety at night driving.
10. No overheat issue with full alluminium body and cooling fan inside
11. Available base: H4, H7, H8, H9, H10, H11, H16, 9004, 9006, 9006, 9007, H13,D1, D2, D3, D4